A clean workplace is essential for a healthy work environment.
We clean all your hardware and digital assets.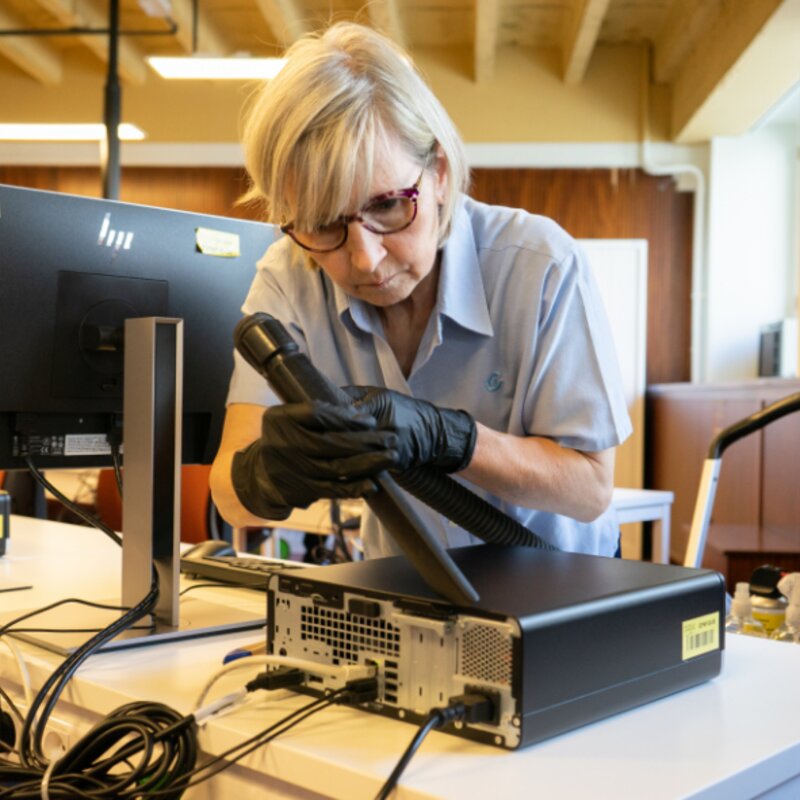 A pleasant, safe & hygienic workplace
In our digital world, we do not only work more intensively with our workplace equipment, the same hardware is often used by multiple employees, such as in flex workstations, cash register systems, shift work, HUBs or co-working contexts.
Neat ICT equipment contributes to a pleasant and healthy working environment. Safe and thorough cleaning of your ICT infrastructure with professional cleaning products: leave that to our experienced IT Care Cleaning Team.
We clean all your hardware and digital assets: keyboard, computer mouse, laptop, PC box, thin client, docking station, headset, tablet, smartphone, phone, scanner, server, payment terminal, bank machine, parking meter, printer up to 3D printer in all sizes, and more.
Even for teleworkers, we have several solutions available to sustainably maintain their equipment.
Sustainable
Equipment that receives proper care lasts longer, less disposal contributes to reducing CO2 emissions.
Pleasant
A spotless working environment contributes to your employees' job satisfaction and sense of safety.
Efficient
Well-cared-for equipment and motivated employees perform better, and absenteeism is reduced.
Professional tools & IT cleaning products
All tools and cleaning products are specifically tailored to ICT installations, they are
environmentally friendly
non-toxic,
non-abrasive,
and in addition to their cleaning properties they also have an antistatic and protective effect.
The hoovers are ESD protected.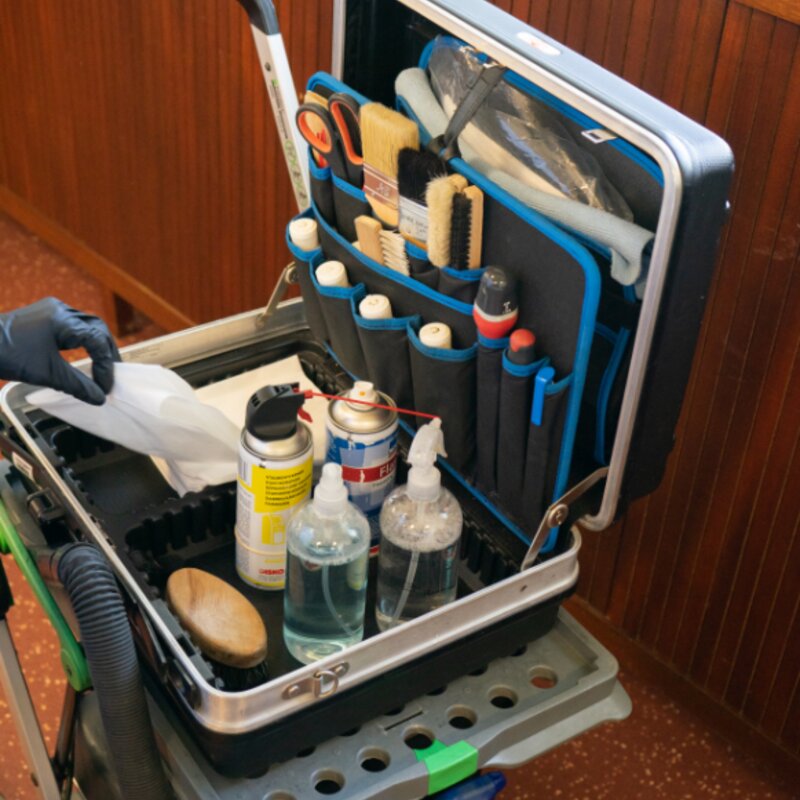 Matching frequency and planning to welfare needs
The frequency of an IT cleaning depends on
the room
,
the equipment
and
the circumstances
. For example, a production environment usually requires more maintenance than an office environment. Flexible workstations require a different approach than fixed desks. Renovation works, the
installation of new equipment
or an
IT move
also influence the frequency and/or possibility of combining them in a total package.
In order to also provide your teleworkers with the necessary tools for regular cleaning, we can
adjust the regular office cleaning schedule to this
schedule extra mobile cleaning moments. Teleworkers can then offer their home work equipment to our IT Cleaning Specialist for a deep cleaning or possibly a demo moment to stimulate cleaning by employees with our home care kits.
Offer home care kits.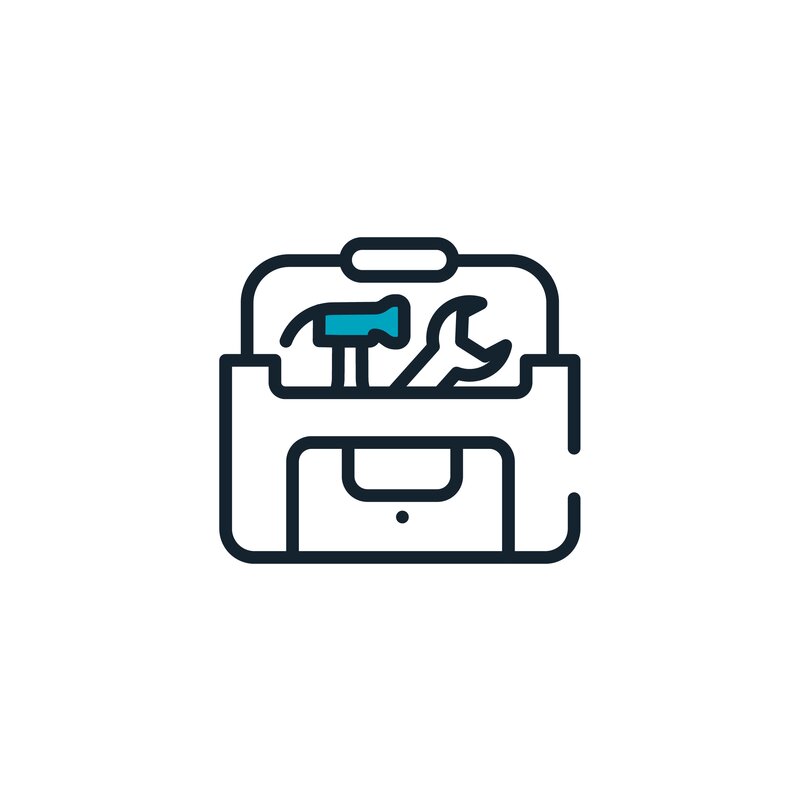 One stop shop
As a one-stop shop, we can combine our services into a total package according to your projects.
If there is equipment that needs a regular check, such as scales, then we can combine this perfectly with the cleaning activity. All inspection points are checked by our IT Care Specialists on the basis of agreed parameters, and all the information collected is immediately processed digitally and made available.
Are you planning a move - internal or external - we will not only take care of the
physical removal
, but also the careful and safe disconnection,
wiring
, reconnection and an immediate
deep cleaning
of all equipment.
We listen to your demands
We listen to your specific needs, evaluate the equipment and quantities, the layout of workstations, the rooms and the circumstances. Depending on the infrastructure, possible safety instructions and needs, we visit your site to form a clear picture and work out an accurate proposal.
Your quote
You receive a quote with a detailed inventory and unit price per device based on your needs, with a choice of one-off implementation or recurring visits.
IT Cleaning
One or more IT Cleaning Specialists are assigned to you according to quantity, region and skills. Each cleaned workstation receives an indicator that it has been cleaned; for your employee, this provides an extra sense of security and confidence that you are taking care of her/his well-being.
Our IT Cleaning Specialists note down the number of devices cleaned and the relevant information. Only the cleaned items are invoiced.
Reporting and Evaluation
Is everyone satisfied? The work sheet offers us input in terms of quality and efficiency measurements. Together with you, we evaluate our collaboration during and after implementation.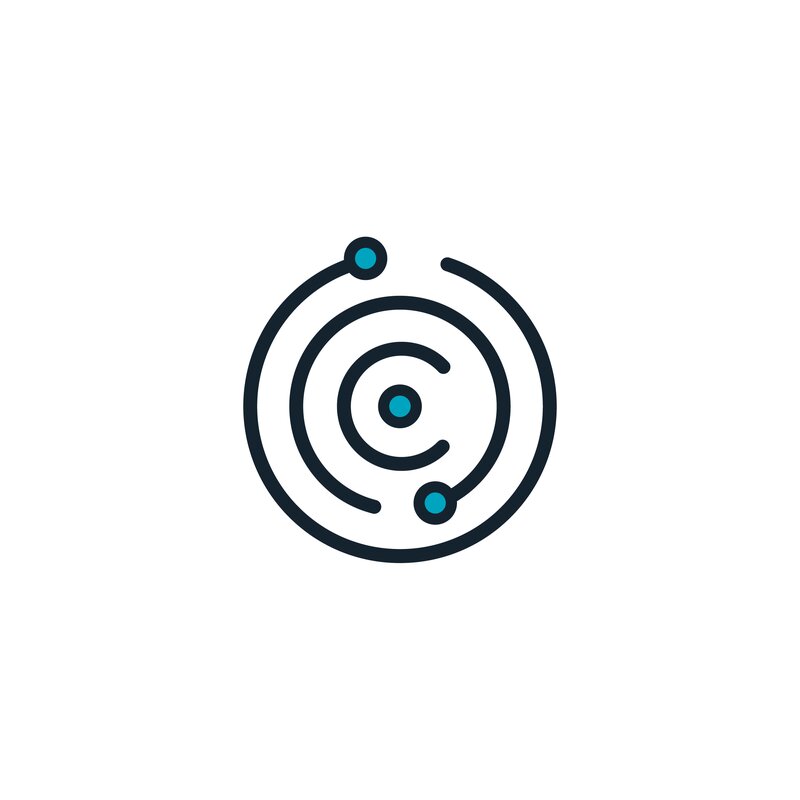 Hardware with a light touch
The well-being of our people also takes pride of place at DataClean. Our employees receive ongoing training and exchange know-how and experiences in our DataClean Community.
Their mission is to give you and your employees peace of mind. With feedback from you, our customers and our DataClean Caretakers, we update our working methods and implement the latest technologies.