Coordinating storage, stock management, delivery and installation requires a great deal of organisation, time and energy. These are core tasks where we can support you and your IT staff from A to Z.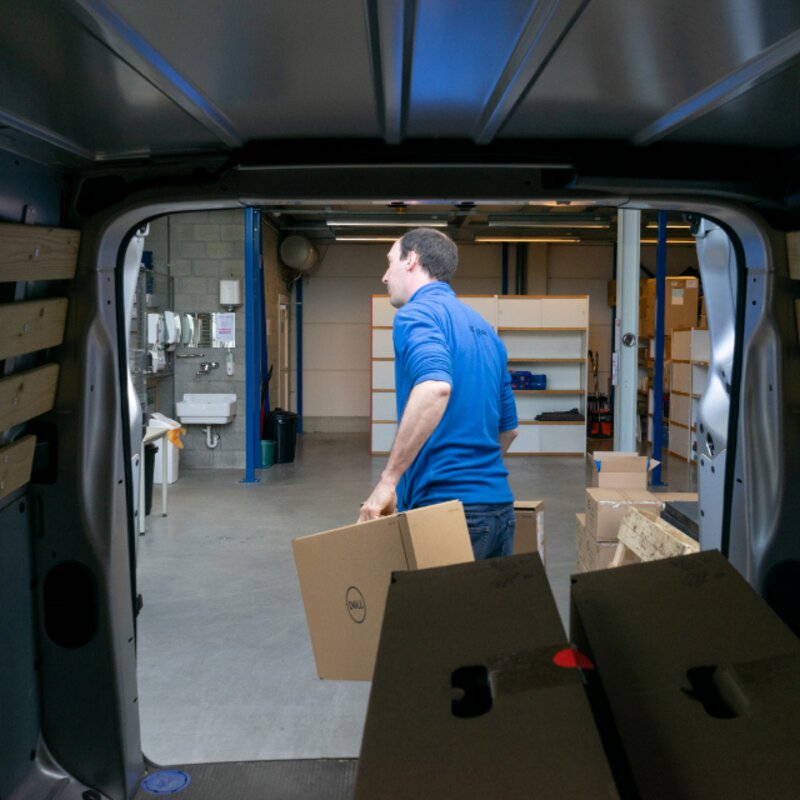 Storage & Inventory Management
DataClean offers more than a warehouse. Your hardware is safe and insured with us, and your peace of mind is therefore guaranteed.
You can also inventory your stocks thanks to our inventory system and consult them online wherever you are. What's more, you can integrate them into your own system. That way, you always have an overview from any location.
After the equipment has been configured in our warehouse, you can have it delivered and installed at the required workplace, headquarters or regional office, HUB or home office.
Time & Cost saving
No more frustration among your colleagues due to overcrowded offices and loss of valuable time.
Safe
Your hardware is in safe hands in our large, well-equipped warehouse.
Real time overview
From storage to configuration, testing, delivery & installation: you are in control of every step.
When to choose our warehouse solutions?
An office space, or even a data room, crammed with IT stocks may result in a lack of space and/or make your employees feel overwhelmed or uneasy. That's a pity because there is enough space in our warehouse to accommodate your equipment temporarily.
Moreover, we have the right tools in-house to manage your stocks. This gives you a good overview of your IT inventory without any effort on your part. We provide a full package because the configuration, assembly, testing, delivery with our own transport and the installation at the office and/or home offices can also be linked to this from our warehouse.
Listen to your demand
Together with you and your IT suppliers, we look at how we can deal with all your concerns relating to storage and the provisioning process in terms of space, type of equipment, duration and your specific preferences.
Your quote
You receive a quote with a detailed list of equipment types, plan of action and cost per equipment type. An overview of equipment, supplier, transporter and timetable may be included.
Storage & Inventory Management
The overview of equipment to be delivered and stored is shared via SharePoint. We follow up the deliveries with your IT supplier and transporter. Upon arrival, we scan the equipment, check the quantities, type of equipment, and serial numbers, and look for possible damage. We store your hardware and accessories safely. Upon delivery from the warehouse, the device is scanned and you have immediate access to the overview.
Reporting and Evaluation
Our IT Logistics Handler follows up the overview and communication with you, making adjustments where necessary.
Hardware with a light touch
The well-being of our people also takes pride of place at DataClean. Our employees receive ongoing training and exchange know-how and experiences in our DataClean Community.
Their mission is to give you and your employees peace of mind. With feedback from you, our customers and our DataClean Caretakers, we update our working methods and implement the latest technologies.