Waterproof, antimicrobial and washable keyboards and mice not only help protect your employees, they also provide a safe, tidy and easy-to-maintain workplace.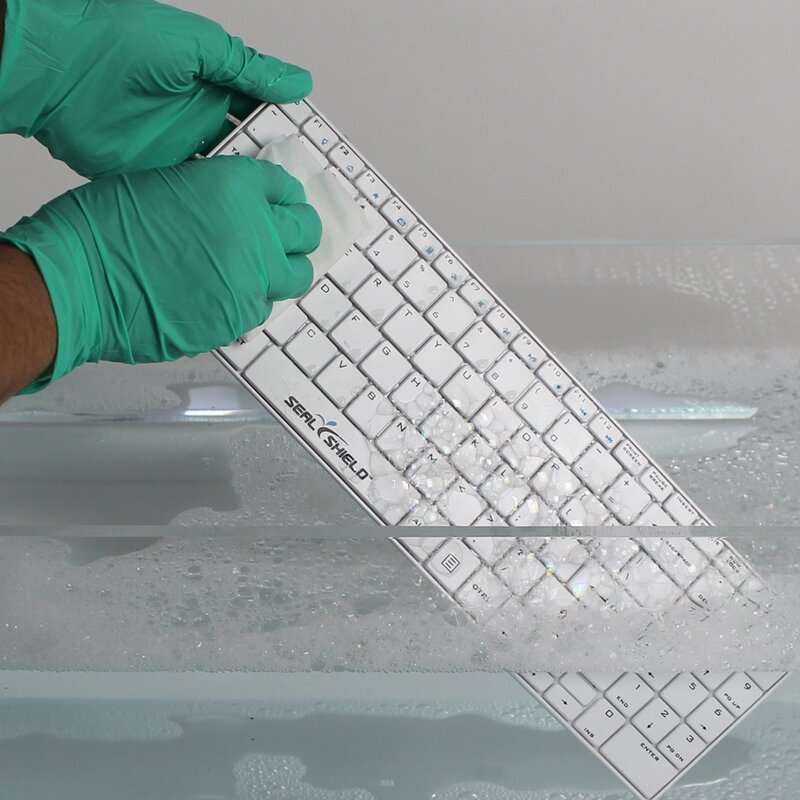 Maximum hygiene and comfort in one
Keyboards and mice harbour up to 400 times more bacteria than the average toilet seat; they are among the dirtiest equipment in an office environment. In critical environments such as the medical world, hospitals, doctors, residential care centres and so on, the use of washable hardware is an absolute priority.
Today, these waterproof hardware assets are indispensable tools to support a safe, clean and hygienic workplace. Not only in the above mentioned critical sectors but also all types of production to sales & administration environments, locations with flex workplaces, business centres, points of sale, cash registers.
DataClean is distributor of Seal Shield products. This company is world leader in infection prevention technologies, with a full range of products and solutions that reduce the risk of cross contamination in healthcare, hospitality and all public and community environments. Their equipment incorporates silver ions, which affect the enzyme activity of bacteria and are inorganic, making the Seal Shield hardware more resistant to higher temperatures.
Seal Shield - washable keyboards
SEAL SHIELD washable keyboards are 100% waterproof and can be effectively cleaned with sprays and cleaning cloths without disconnecting. Moreover, you can also clean the Seal Shield hardware under running water or in the dishwasher.
Different models available with optimal ergonomics, comfort and functionality.
Universally applicable within your IT system.
optimal hygiene
infection prevention
IP68 standard - highest protection *
Available in black and white
* The height of the two numbers after the letters 'IP' indicate the degree of protection a product has in terms of dustproofness and waterproofness:
The first number indicates the degree of dust tightness - from 0 to 6
The second number indicates the degree of watertightness - from 0 to 9
The IP code therefore indicates whether the product is rainproof, can be used outdoors or in a wet room such as a bathroom.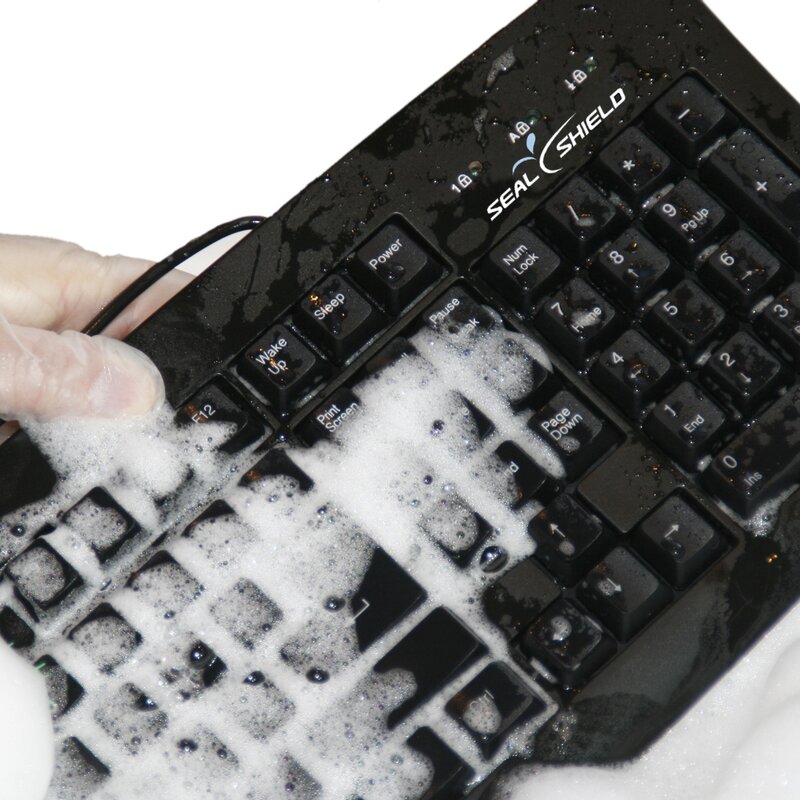 Antimicrobial washable keyboard - Azerty - Flemish
Standard Azerty keyboard with full numeric pad.
100 % waterproof - IP 68 - washable in dishwasher
USB Quick Connect cable with sealable cap (Seal Cap TM)
Laser etched keys
Compatible with hospital cleaning and disinfection products
Contains antimicrobial agent
Black version : SSKSV208BEFL White version : SSWKSV208BEFL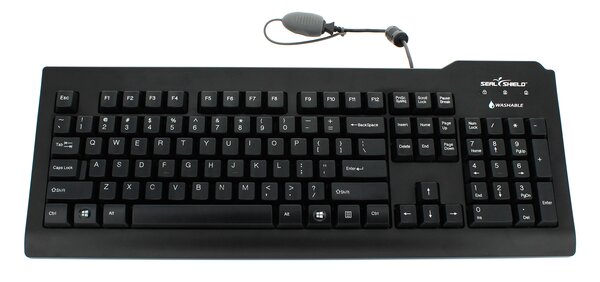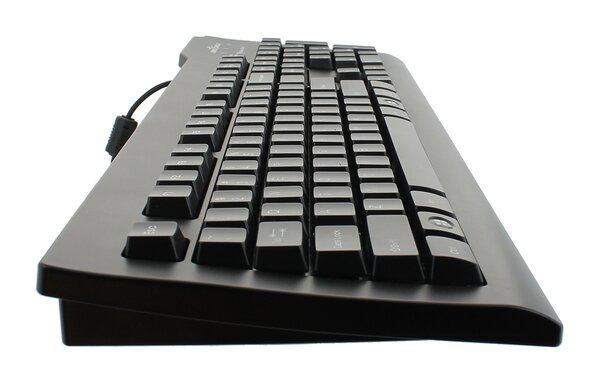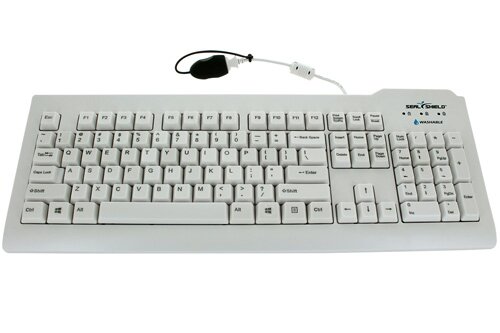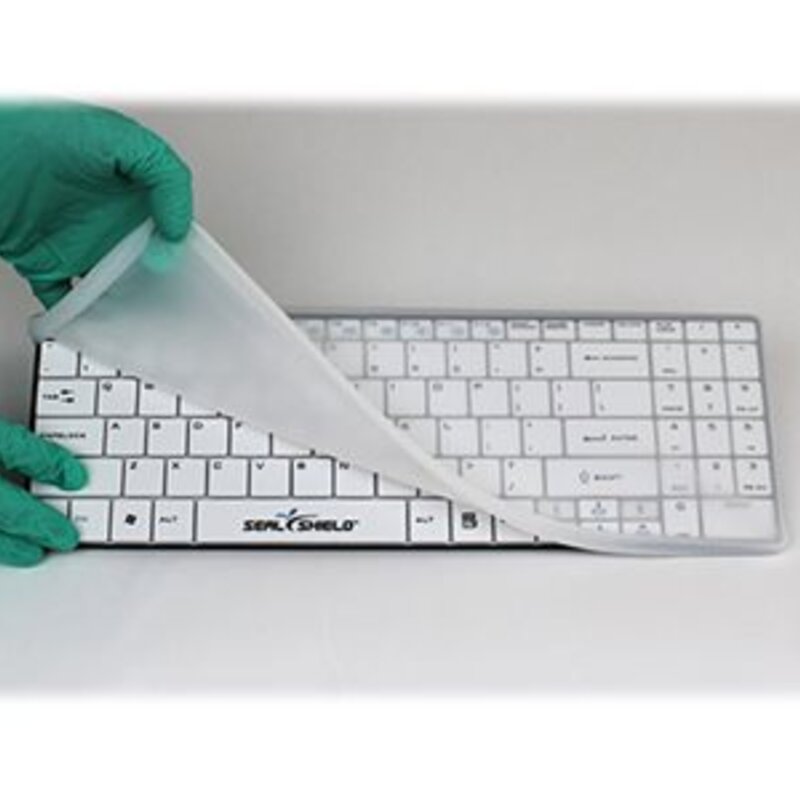 CleanWipe - washable keyboard
Advanced CleanWipe Waterproof keyboards from Seal Shield. Keyboards with a compact footprint, perfect for any workplace. The UV-resistant coating on the key labels ensures a longer product life with regular and intensive cleaning. CleanWipe latex-free silicone cover included.
IP68 - 100 % waterproof - washable in dishwasher
Antimicrobial agent
USB Quick Connect Cable with Seal Cap
UV Resistant Coating
Compatible with hospital cleaning and disinfection products
Compact
Only in white version
SSKSV099BE : Azerty Flemish SSKSV099US : Qwerty US SSKSV099FR : Qwerty FR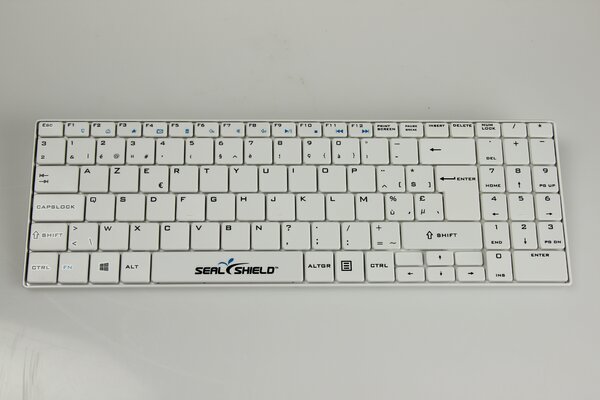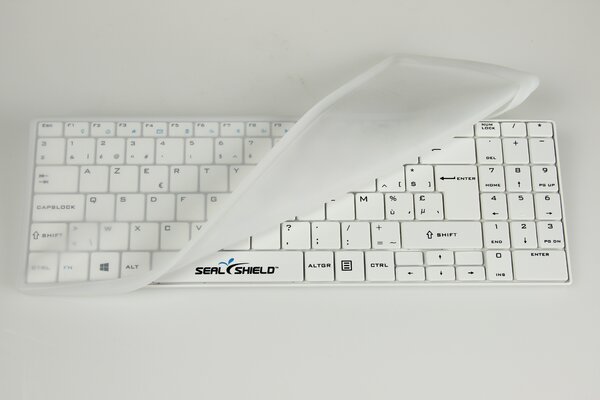 Washable mice
Seal Shield washable medical grade Clean Storm mouse is 100% waterproof and dishwasher safe. The special design withstands vigorous and frequent cleaning and allows the removal of dirt and harmful pathogens in hard-to-reach crevices.
IP68 - 100% waterproof - washable
Plug-and-play USB connection
Resistant to hospital cleaning and disinfection products
Black mouse : STM042 White mouse : STWM042